Community Service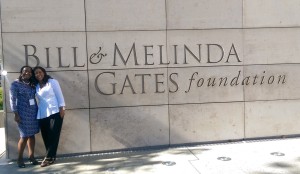 During the Far West Region Teen Conference, our teens and chaperones shared a unique and rare opportunity; the community service event was held at the Bill and Melinda Gates Foundation in Seattle, Washington. The Gates Foundation supports initiatives in education, world health and population, and community giving in the Pacific Northwest. This event was co-sponsored by the Black Philanthropic Partners (BPP) at the Gates Foundation; one of the leaders is a member of the Jack and Jill of America, Inc., Seattle Chapter. The objective was to provide teens with an educational experience in philanthropy, leadership development, and community service. Our goal was to enable teens to see philanthropy as a career path and a lifestyle. To achieve this objective, we also partnered with Treehouse for Kids.
Treehouse for Kids is a Washington based non-profit organization whose mission is to create a world where every child who has experienced a crisis of parenting has opportunities and support to pursue their dreams and become productive members of their community.  Treehouse serves King County, Washington, providing youth in foster care with essential and academic support and resources to ensure their graduation from high school at the same rate as their peers.
Teens participated in the following sessions, which were facilitated by the Regional Teen Board and parents toured the facilities which housed collectibles from around the world.
Leadership and US Education Policy
Leadership and Global Philanthropic Initiatives
College preparation & internships
Treehouse For Kids Presentation
After robust dialogue, the teens eagerly demonstrated their commitment to service by stuffing backpacks with school supplies (index cards, mechanical pencils, composition books, colored pencils) for foster children of the Treehouse for Kids organization.  Each teen also wrote an encouraging quote to each recipient. The Far West continues to make a difference one child at a time.
 Member At Large
Vara Allen-Jones
How much are you willing to spend on a
spying.ninja
cell phone